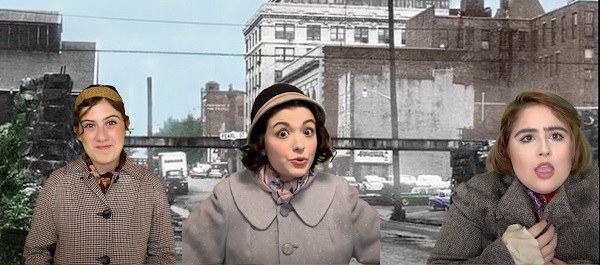 DANBURY, CT – The Western Connecticut State University Department of Theatre Arts participated in the Region 1 Kennedy Center American College Theater Festival in late January, at which its virtual production, "The Radium Girls: A Jaw-Dropping New Musical," was selected as a featured performance for consideration across all regions. The KCACTF National Committee and National Office at the Kennedy Center recently announced winners of the Kennedy Center American College Theatre Festival national awards, with WCSU receiving five. These awards include:
Special Achievement in Overall Production Design
Special Achievement in Stage Management awarded to Becca Ferrante, of Norwalk
Special Achievement in Performance awarded to Alexis Reda, of Trumbull
Special Achievement in Ensemble Collaboration (Performance and Production)
Special Achievement in Musical Direction awarded to Justin P. Cowan, Associate Professor and Associate Chair of the Department of Theatre Arts.
"The Radium Girls: A Jaw-Dropping New Musical" is a female-driven, horror-laced dark comedy inspired by the stories and spirits of the young women who worked the factory line at the U.S. Radium Corporation in the 1920s. The production was produced, rehearsed, filmed and edited entirely remotely, to ensure safety during the height of the Covid-19 pandemic, and presented as part of the New Works – New Voices streaming series in November and December 2020. The production was directed by Tim Howard and music directed by Justin P. Cowan. The writing team included Amanda D'Archangelis, Sami Horneff and Lisa Mongillo.
Howard, "Radium Girls'" director and Coordinator of WCSU's B.F.A. in Musical Theatre program, said, "I'm delighted the Kennedy Center has acknowledged our hard work on a national level. Doing a full production of a brand-new musical would be an extraordinary task, but adding on the film/virtual musical aspect, when no one is in the same room or even the same state, was a major feat and learning experience for all of us. The students rose to the occasion with positivity and an amazing work ethic. I'm thrilled for the talented students, writing team, and for the department to have this acknowledgement from KCACTF."
WCSU has previously received national honors from KCACTF for its productions of "Uncle Vanya," "Evita," "The Drowsy Chaperone" and "Parade."
KCACTF is a national theater program involving 18,000 students from more than 700 colleges and universities nationwide. Eight regional festivals take place in January and February, with finalists and some award winners advancing to the national festival in April in Washington, D.C. WCSU is part of Region 1, which comprises Connecticut, Maine, Massachusetts, New Hampshire, northeastern New York, Rhode Island and Vermont.