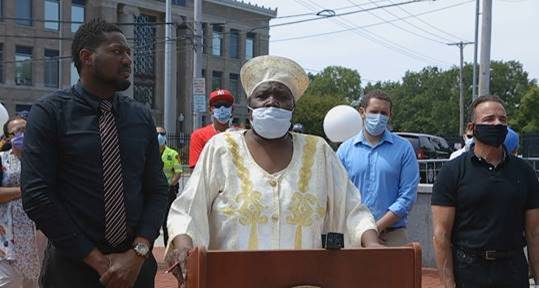 Bridgeport, CT – Bridgeport Mayor Ganim signed the Obama Foundation pledge which calls for a commitment to action by mayors and other community leaders across the country to address police use-of-force policies. The call-to-action is made by former President Obama following the death of George Floyd and the need to engage the community in steps towards procedural change that will be conducive to positive police and constituent interactions.
On June 4th, 2020, Mayor Ganim joined an event organized by Reverend Mary McBride-Lee and Reverend Herron Gaston with local clergy, community leaders, City Council members, Bridgeport Chief of Police Perez, Assistant Chief Garcia, and Bridgeport Police officers who knelt for 8 minutes and 46 seconds at the memorial in front of police department, to display solidarity with those who support the need for policy that safeguards against police brutality.
During the event, Mayor Ganim stated, "This is not a sprint but a marathon for our nation. We are a part of the moral arch of this country. President Obama called on each one us as Mayors, and every community, city, citizen, police officer, religious leaders, and council members—we all have voices. Words matter, action matters. Our actions are meant here as a statement of unity and change in Bridgeport and, we hope, in the nation, as well."
Reverend Mary McBride-Lee: "We thank everyone for being here today. I would just like to say we are here for a particular reason: We are here to say we will not be silent anymore. We are not here to condemn the police department or officers but to stand together in unity for our brother Floyd. "
Reverend Gaston, "We are inspired by our young activist and must not undermine or diminish their contributions to move our country forward so that we can become the best version of ourselves."
Bobbi Brown, "There's no proper way to protest, but there's a safe way to protest. We'll be back, the young people aren't going anywhere."
Dr. Carolyn Nah, "I hope this death of Mr. Floyd helps Bridgeport to set the precedent for change in the United States. We don't have to look anywhere but right here in our own backyard. You've got the leadership in this City, we've got great minds in this City. We have to utilize them… One person can't do it. It takes all of us as a united front."
Chief Perez, "These images are beyond disturbing and they cast a stain over the law enforcement profession and dedicated men and women who serve and protect their community with honor. Every day, every incident matters."
President Obama's Commit to Action pledge states, "We can take steps and make reforms to combat police violence and systemic racism within law enforcement. Together, we can work to redefine public safety so that it recognizes the humanity and dignity of every person."
By signing the pledge, Mayor Ganim commits to engaging the community in the review, report, and reform of use-of-force policy in the City of Bridgeport.