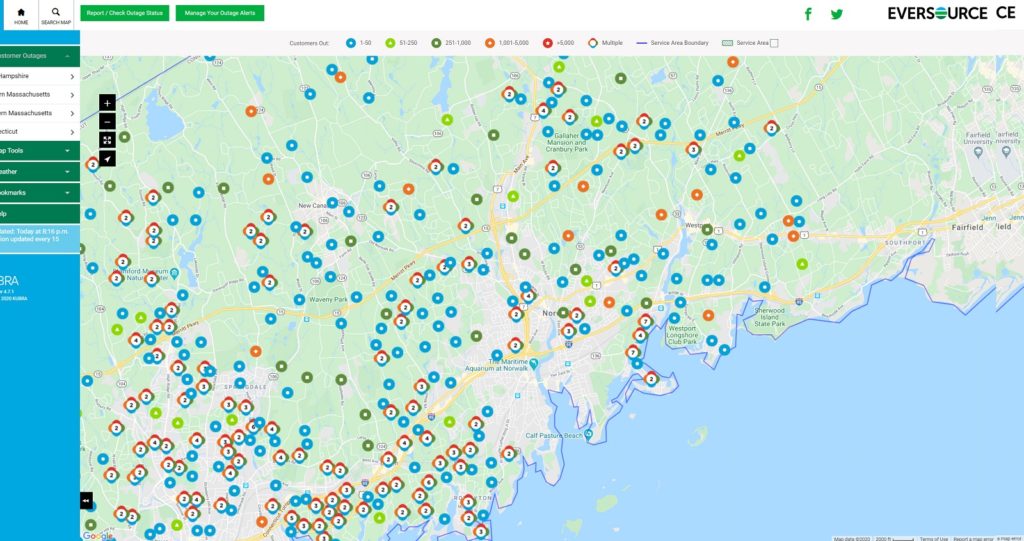 City crews from Public works, Fire and Police departments are busy responding to reports of trees and wires down and road closures throughout Norwalk. More than 140 reports have been called in. Crews had to be pulled off the road for a short period due to safety concerns, but are working hard to clear the roads and remove debris.
More than 10,400 outages have been reported to Eversource and all territory served by SNEW is without power. Residents should continue to try and report outages by phone, text or via their app. At this time there is no estimate for restoration, but information continues to come in and residents should plan to be without power for a few days.
There were multiple trees and wires down and debris at City parks. However Calf Pasture, Veterans park and Cranbury Park will be closed Wednesday, August 5 so the area can be safely cleared.
Traffic lights are out throughout the City and residents are encouraged to stay off the roads and allow crews to safely work. While many residents may want to walk outside to survey the damage, its important to remember that debris can be dangerous. Downed trees and limbs can contain wires and other hazards. Some wires may still have a current and can dangerous to adults, pets and children.
Residents are encouraged to be a good neighbor and check on elderly or vulnerable friends and family members, especially if they've lost power.