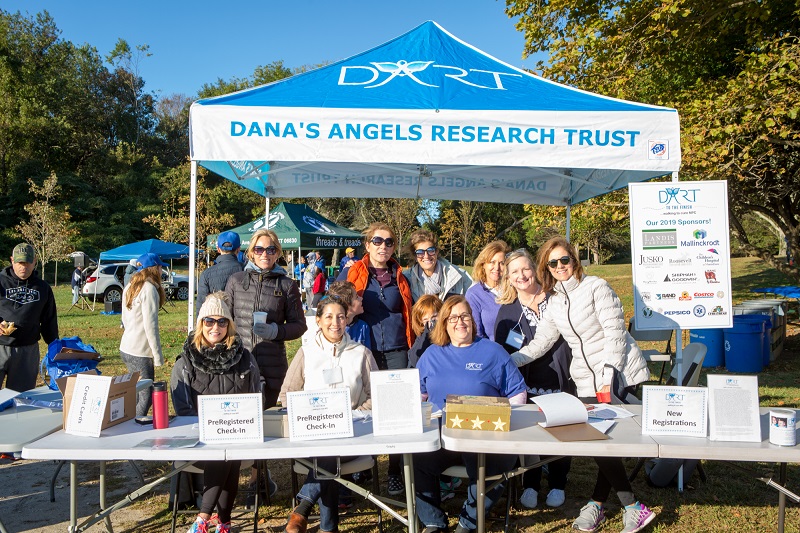 The third annual DART to the Finish charity walk to benefit Dana's Angels Research Trust (DART) is scheduled for September 26 through October 3, 2020, and will be held virtually this year! DART is a Greenwich, Connecticut-based nonprofit that funds research for the rare childhood disease, Niemann-Pick type C (NPC), which is often referred to as "childhood Alzheimers." This year, due to COVID-19 and the need to keep everyone safe, the walk is being done virtually September 26 through October 3, 2020. Participants can complete a two-mile walk anywhere they want – in their neighborhood, at the beach, in a park or on a treadmill. Registration (which is a tax-deductible donation to DART) is $25 for adults and $10 for children ages 10 to 21 years of age. Registered walkers receive a DART to the Finish t-shirt and are eligible for restaurant gift certificate rewards when they get other friends and family members to sign up. To learn more and register, visit danasangels.org or runsignup.com/Race/CT/Greenwich/DARTToTheFinish.
Dana's Angels Research Trust was founded by Andrea and Phil Marella of Greenwich after two of their four children, Dana and Andrew, were diagnosed with Niemann Pick type C disease (NPC). Dana sadly passed away in 2013 at age 19. But Andrew, who turned 21 in June, is doing better due to being enrolled in a clinical trial to slow the progression of the disease. NPC is so rare that only about 200 children are diagnosed in the U.S. and only a few, including Andrew, live in Connecticut. This devastating genetic disorder robs a child of the ability to live a long, healthy life, often becoming fatal in the teenage years. But, DART is helping to change that fate. As a non-profit organization, DART raises funds to support pivotal NPC research — research that may also help millions suffering from Parkinson's disease, HIV/Aids, Ebola, heart disease, stroke, Alzheimer's disease and other disorders that appear to be related to cholesterol.
Last year's DART to the Finish walk raised almost $140,000 and it is the hope of Andrea and Phil Marella, founders of DART, that this year's Walk will raise even more.
"NPC is a brutal disease," noted Phil Marella, co-founder of DART. "It impacts neurological and motor functions in young children and is caused by a malfunction in the way the body stores and processes cholesterol. While this disease has impacted our family for close to 20 years, we have only seen promising progress in treatment options in the past ten years — specifically a clinical trial that our son Andrew is enrolled in that has helped him deal with the devastating impact of the disease." Andrea Marella added, "This clinical trial and other research into NPC is made possible only through the generous donations of our friends, community and sponsors. Holding the DART to the Finish walk is our way of doing something fun and raising much-needed funds at the same time."
This is the third year DART will hold a family-friendly two-mile walk. Past walks were held at Greenwich Point Park. DART also has hosted numerous fundraisers that have included performances by Hunter Hayes, Martina McBride, Gladys Knight, Kenny Loggins, The Beach Boys, Frankie Valli, Natalie Cole, Smokey Robinson, America, Rob Mathes and Richard Dreyfuss, who have all performed at the DART Gala Benefits with proceeds supporting NPC research.
DART has also been fortunate over the years to have the love and support of celebrities, media and sports luminaries such as Kathie Lee and Frank Gifford, Joy and Regis Philbin, Cheryl and Ron Howard, Martin Scorsese, Sonny Grosso, Phil Ramone, Richard LaGravenese, Florence Henderson, Chynna Phillips, Billy Baldwin, Kenny Loggins, and Michelle Phillips of The Mamas and The Papas fame.
To date, DART has raised almost $5.0 million that has gone toward the search for a better treatment and ultimately a cure for NPC. DART is particularly proud of its commitment as a founding member of a unique, collaborative drug development program called SOAR-NPC or Support Of Accelerated Research. Working with other NPC families and research institutions, SOAR's collaborators have four clinical trials already to their credit.
To learn more about Dana's Angels Research Trust (DART) or to register for the DART to The Finish Walk, visit danasangels.org. To learn more about Dana's Angels Research Trust (DART), visit danasangels.org, on Facebook @danasangels, Instagram @danasangelsNPC and Twitter @danasangels.