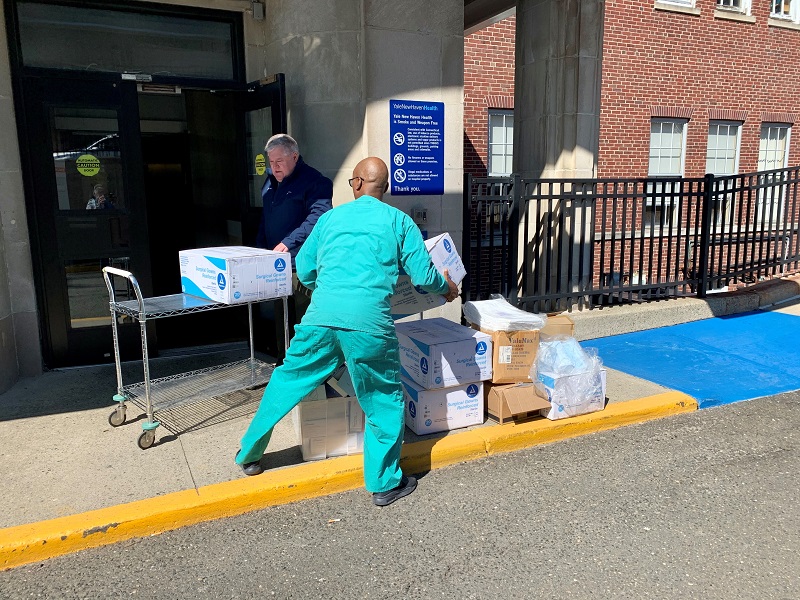 BRIDGEPORT, CT – To support the fight against Coronavirus, Housatonic Community College (HCC) donated critical medical supplies from its math, science and allied health programs today to Yale New Haven Health – Bridgeport Hospital.
Boxes containing medical devices, masks, face shields, sterile gowns, disposable gloves, disposable head covers, shoe covers and general-purpose hand cleansers were gathered together from the school's supplies and delivered to the hospital for their use. In total, the donation was valued at thousands of dollars.
"Our educational programs celebrate the work of the medical profession, training students for careers in the field. During this crisis we must go beyond academics to aid our community. We thank all of the courageous healthcare providers battling Coronavirus and are happy to do what we can to help," said Academic Dean Robin Avant.
In response to the COVID-19 pandemic, the HCC campus is currently closed to the public until the end of the spring semester, with all classes and services now delivered online. As a result, the College's medical supplies won't be needed until regular classes resume.
"Community Colleges throughout the state are looking at their supplies of personal protective equipment to create donations to local hospitals. Housatonic is at the forefront of that effort," said Dr. Thomas G. Coley, Acting President Housatonic Community College and Regional President, CSCU Shoreline-West.
Housatonic Community College offers a wide variety of courses and certification programs related to healthcare. Their popular Surgical Technology program prepares students to become entry-level surgical technologists, and additional courses are offered for students to enter fulfilling careers as medical assistants, patient care technicians, certified nurse aides, pharmacy technicians and more. Through these programs, HCC offers a pipeline of medical staff to area hospitals.
Upon receipt of the supplies, a representative from the hospital thanked the College for the supplies, stating that they were in need and would be put to use.