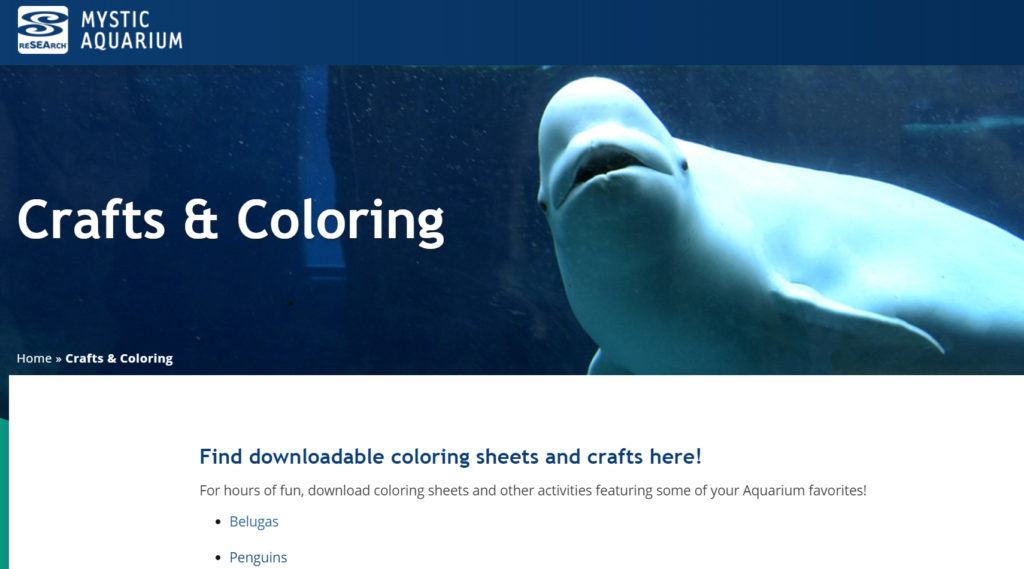 Mystic, CT – While animal welfare and human health remain the top priorities for Mystic Aquarium, the iconic Connecticut attraction is keenly focused on developing fun, educational opportunities to engage families. Online resources are not only providing much-needed educational content for children learning from home but are connecting team members at Mystic to their community in new and exciting ways.
A wide range of multimedia resources are currently available through MysticAquarium.org, from the unique offerings of the Aquarium's national conservation-based STEM education program to downloadable coloring sheets and activities.  The Aquarium's Pinterest page is also populated with a host of conservation-focused activities.
At 11am each day, Facebook Live broadcasts from Mystic Aquarium feature different animal care professionals and a variety of species. During the broadcast, viewers are encouraged to ask questions in the comments section. Following each Live segment, Aquarium experts follow up to ensure that all the questions posed during the broadcast are answered.  Story Time is another feature on Facebook that will be rolled out in the coming days and will include readings of books about our very own Astro the Steller sea lion and Charlotte the green sea turtle, as well as other Aquarium and marine themed children's books.
In partnership with Aquarion Water Company, a free live feed from the African penguin habitat is also available at MysticAquarium.org.
"Our doors may be closed," said Josh Davis, Senior Trainer of Penguins, who is one of the hosts of Mystic Aquarium's daily Facebook Lives, "but we are still here for our animals and our community."
The Aquarium animal care team is especially excited about a new Pen Pal program that is now in place allowing children and families to connect through personal correspondence.  Anyone having questions or simply interested in touching base with the team and the animals is encouraged to email PenPal@MysticAquarium.org or mail via US mail at Pen Pal c/o Mystic Aquarium, 55 Coogan Blvd., Mystic, CT 06385.
"We always look forward to educating our guests while they are here and it's very important for us to continue that even when we cannot be together," said Kristen Waddell, a California Sea Lion Trainer, and Davis' co-host.
Whether it's the over 4,000 animals in their care or students and families throughout the community, the team at Mystic Aquarium is always at the ready to provide care, support and inspiration!  Mystic Aquarium relies on revenue from ticket sales to operate. The temporary closure due to the COVID-19 pandemic has left the Aquarium in a vulnerable financial situation.  Please consider making a donating today to help us during this uncertain time.