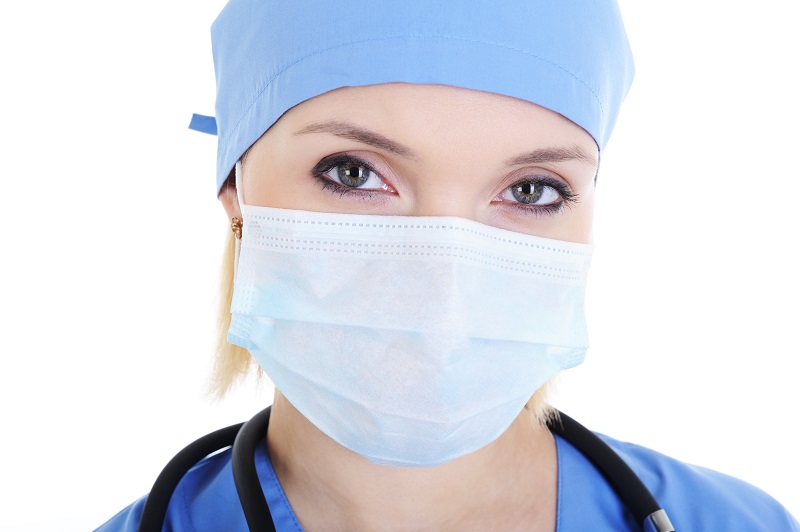 Norwalk, CT – Norwalk Community College's Hospital Simulation Unit, a high-tech teaching facility for nursing, respiratory and allied health workers, has donated Personal Protective Equipment (PPE) to frontline health care workers caring for victims of the COVID-19 virus in Connecticut.  NCC has donated 15,0000 medical gloves, 919 masks, and 130 gowns, and has lent three ventilators.
The NCC Hospital Simulation Unit and its contents/equipment were funded by the Norwalk Community College Foundation. Many of the health care workers courageously caring for COVID patients are graduates of the NCC Nursing, Allied Health and Respiratory Care programs. One hundred percent of the 2019 Respiratory Care Program graduates were hired upon graduation and are working in hospitals, doctor's offices and long-term care and nursing facilities.  NCC educates more of the nurses, allied health care workers, certified nurse aides and respiratory therapy technicians in Fairfield County than any other college. NCC also offers a highly respected Emergency Medical Technician program.
"Let alone to say, when we signed up to be healthcare providers- we signed up for anything that came our way," said an NCC respiratory therapy graduate who is working in a New York City Hospital. "But right now we are on a dangerous battlefield and it is scary because we have no idea what we are up against, and we were not prepared."
The 17-member institutions of the Connecticut State Colleges and Universities system have donated a total of: 184,400 gloves, 11,345 masks, 1,885 gowns and 15 ventilators to the State of Connecticut for use in a variety of medical facilities. Southern Connecticut State University's Moore Fieldhouse and Western Connecticut State University's O'Neill Center were recently transformed  into mobile hospitals to assist with the anticipated surge of patients affected with COVID-19. The Federal Emergency Management Agency (FEMA) has dropped off supplies at Southern Connecticut State University and the Division of Emergency Management and Homeland Security has dropped off supplies at Western Connecticut State University. The  Connecticut National Guard has staged the gymnasiums for use as health care facilities with 250 beds at Southern and 200 at Western.
"Connecticut State Colleges and Universities and its institutions are proud to be part of Governor Lamont's crisis response team," CSCU President Mark Ojakian said. "This pandemic is unlike anything we have seen before, and combatting it will require all hands on deck. Our public colleges and universities are part of the solution, not only providing space for mobile hospitals, but also providing housing space for health care workers, and donating tens of thousands of units of personal protective equipment to those on the front lines of fighting this disease."
Currently, residence halls at Central, Eastern, Southern, and Western Connecticut State Universities are expected to be utilized to house emergency medical personnel and non-critical COVID-19 patients. At most recent count, CSCU has donated 184,400 gloves,  11,345 masks, 1,885 gowns, and 15 ventilators to local hospitals and frontline health care workers.