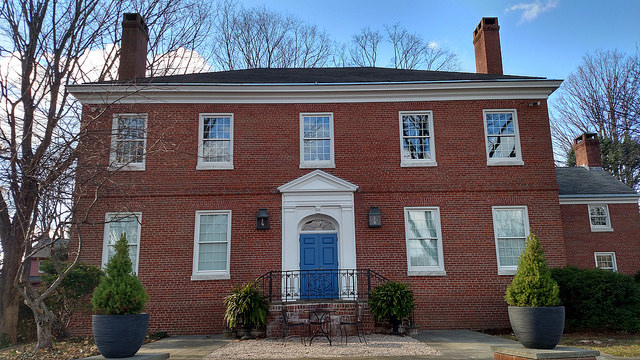 NORWALK, CT – The Norwalk Historical Society Museum is opening its doors for the first time since March of 2020. The museum reopens on Wednesday May 26, 2021 and will be open every Wednesday through Saturday, except for holidays. Self-guided tours are at Noon, 1pm, 2pm and 3pm. Tickets must be purchased in advance at: www.norwalkhistoricalsociety.org Tickets are: Adults $5, Seniors 65+ & Youth ages 4 – 17 are $3 and children under 3 are free. Please make note of the visitor guidelines on the ticket page.
The Norwalk Historical Society Museum is located at 141 East Avenue. The front entrance is accessible from the Norwalk City Hall parking area at 125 East Avenue. The Museum is in the red brick house with blue double front doors, next to the Norwalk Health Department.
Explore eight exhibitions that highlight Norwalk's rich history. Exhibitions include: "Caught in the Crosshairs: The Secret of the Norden Bombsight" curated by Judith Bacal, "Destination Norwalk: African-American Migration from the South, 1940 – 1970" curated by Kathleen Motes Bennewitz, "Eating off the Landscape: The Farrington-Lockwood Dessert Service" and "Form, Function, Family: Silver from the Norwalk Historical Society and City of Norwalk Collections" both curated by Elizabeth Pratt Fox, "New Deal, New Day: WPA Artists at Work and Play" curated by Valerie A. Cooper, "Norwalk Collects: Celebrating Four Historic Collections" curated by Elizabeth Pratt Fox, "Norwalk: Portrait of Diversity" curated by Leslie Korzenik with photography from the late Tony Valez and "Self and the World: Experiencing Photography in 19th-Century Norwalk" curated by Elizabeth Avery.
The Norwalk Historical Society Museum's Gift Shop will be open during self-guided tour hours. The gift shop showcases the work of over fifteen local artists and features an eclectic array of distinctive merchandise including home decor, paintings, mixed media art, photography, jewelry, books, clothing, vintage-inspired toys, pottery as well as Norwalk Historical Society logo wear.