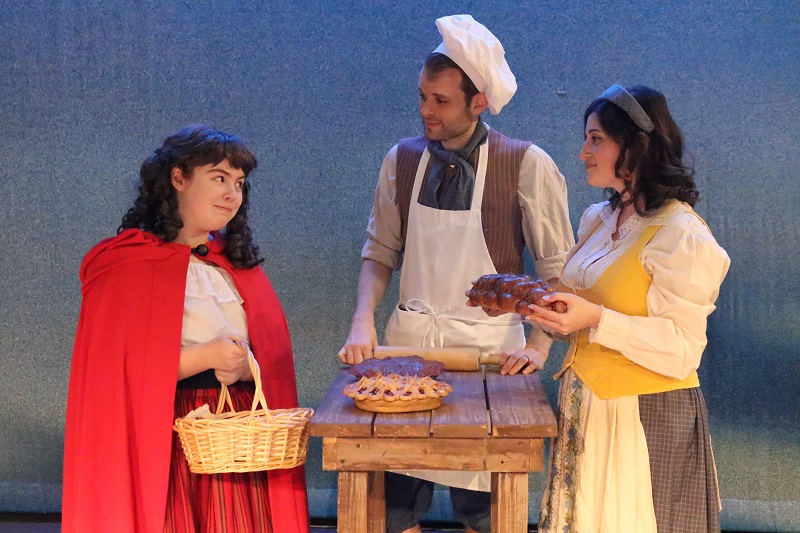 Into the Woods, the award-winning Broadway musical penned by former Stamford residents Stephen Sondheim and James Lapine, will play at Curtain Call in Stamford for four weeks beginning February 4.
For Into the Woods, Lapine and Sondheim took everyone's favorite storybook characters and brought them together for a timeless, yet relevant, piece… and a rare modern classic. It's an epic fairytale about wishes, family and the choices we make. The Tony Award-winning book and score are both enchanting and touching.
The story follows a Baker and his wife, who wish to have a child; Cinderella, who wishes to attend the King's Festival; and Jack, who wishes his cow would give milk. When the Baker and his wife learn that they cannot have a child because of a Witch's curse, the two set off on a journey to break the curse. Everyone's wish is granted, but the consequences of their actions return to haunt them later with disastrous results.
"We've assembled an amazing cast for this show," said Lou Ursone, Curtain Call's executive director and producer for this show. "A show as musically complex as this one cannot be done without top notch performers, and we are thrilled with this cast, Ursone added. "Finding the right production team for a show like this is just as important as finding the cast, so I was fortunate to line up Tom Coppola (director) and George H. Croom (music director)," Ursone said.
Coppola added, "I'm always honored to be asked back to direct at Curtain Call, especially this show, at this time—given Sondheim's recent passing. The show deals with loss in the second act. Given the tremendous amount of loss we have seen as a result of the pandemic, you might say the show will strike a chord in some way."
The cast features many veteran Curtain Call performers as well as several newcomers, including: Chris Balestriere, Brian Bianco, Rebecca Borowik, Hunter Brady, Clint Clifford, Molly Eagleton, Madeline Galgano, Chris Giordano, Claire Kenny, Eliza Kingsbury, Cara Kramer, Anthony Laszlo, Noah Leibowitz, Brian Lombardi, Jenny Maso, Nancy Meyer, Katie Priscott, Kyle Runestad, Matt Spina, Libby Whitely Scherer and Kaylin Weller.
"The cast has been troupers during this process. Focusing on health and safety have been paramount, with mask mandates and weekly testing. At the end of the day, we've had to make it work, and everyone is committed to making that happen," Coppola said.
In addition to Coppola and Croom, the production team includes set design by Martin Marchitto, lighting design by Adam Lobelson, costumes by Mary Joan Wright, with stage management by Tom DeSalvo and Jan Ursone.
"This season has been far from normal," Ursone said, noting the roller coaster-like process of running a theatre during a pandemic. In that regard, Curtain Call has been following the Broadway protocols of requiring full vaccination of its cast, staff, crew and audience. (Full details are available on the theatre's website.)
Performances will be held Thursday, Friday and Saturday evenings at 8:00pm and Sunday afternoons at 2:00PM, from February 4 to 26. The Kweskin Theatre is located at The Sterling Farms Theatre Complex, 1349 Newfield Avenue, Stamford, CT. Doors open one half hour before show time. Tickets are $35 for adults, $25 for senior citizens and $20 for children under 21. (Discounted Flex Pass subscriptions offer savings of 25% and more.) Box Office: 203-461-6358 or on the web at www.curtaincallinc.com.
Into the Woods is produced in cooperation with The City of Stamford with support from the CT Office of the Arts and funding from the Shuttered Venue Operators Grant. It is produced through special arrangement with Music Theatre International, MTIShows.com.
Curtain Call was voted Fairfield County's BEST LOCAL THEATRE GROUP ten years running in the Annual Readers' Poll of the Fairfield County Weekly and has received similar BEST OF awards from Stamford Magazine and StamfordPlus magazine for 2008 through 2018. Curtain Call received The Governor's Award for Excellence in the Arts in 2011 and the ACE Award for Excellence in Arts & Culture from the Cultural Alliance of Fairfield County in 2016.