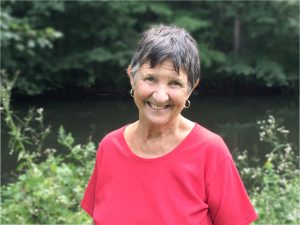 DANBURY, CT – Dr. Andrea O'Connor was a newly licensed lawyer, focusing on elder law, estate planning and probate. One of her first assignments was to shepherd the case of a man she had never met through probate court. Not only did she successfully conclude that matter, the experience sparked the plot of her first novel.
"Woodson Falls: 16 Lakeview Terrace," introduces Gaby Quinn, a second-career lawyer who, with a dog named Kat, escapes New York for the quiet Connecticut town of Woodson Falls after the violent death of her husband. She is assigned by the probate court to administer the estate of Pieter Jorgensen. In trying to locate his missing body and truck, Quinn begins to uncover who this man really was, and discovers that the small, idyllic town of Woodson Falls holds some very dark secrets.
The book was published this summer by Emerald Lake Books of Sherman, Connecticut, a hybrid publisher that also gave O'Connor access to marketing, an area that O'Connor admits she needed help with.
As with her fictional protagonist, law was not O'Connor's first career.
Following practice as a coronary care nurse and medical supervisor at New York Hospital, she became an associate editor of the American Journal of Nursing and assistant director of Educational Services for the company. O'Connor earned a doctorate in education from Teachers College, Columbia University, and then served as associate professor of Nursing Education and director of the Center for Nursing Leadership Development at the college. After moving to Connecticut, she became professor and chair of the Nursing Department at WCSU, where she developed a highly successful master's program.
She also earned her law degree during this time and retired from the university to set up her law practice. She wasn't done with careers, though. She also served as First Selectman of Sherman for eight years.
Her writing career is in its second stage as well. Before turning to novels, she was an award-winning author of peer-reviewed articles and books on teaching and nursing. One of them, "Clinical Teaching and Evaluation: A Clinical Resource," went into three editions.
O'Connor said she wrestled with the transition to fiction, but she had help from her husband, John, who was also in need of a new project.
As nurse, teacher and volunteer, John was very physically active, playing basketball into his 80s. Parkinson's disease slowed his active lifestyle, though, and O'Connor, sensing her husband's frustration and desire "to do something," suggested they write a book together.
As a career academic, O'Connor admitted, "It was difficult for me to turn from nonfiction, factual writing," but together the couple "pushed the envelope of fact into fiction." Although John passed away before the book could be finished, O'Connor said she has caught "the bug of mystery writing."
Now, her plans are for "Woodson Falls: 16 Lakeview Terrace" to be just the first installment of a series of mystery novels. "Woodson Falls" currently holds a 5/5 rating from the book review and award website Readers' Favorite, and a 4/5 rating on the book review website Goodreads. She is already well into the second book in the series, which she says is also loosely based on of a probate case she handled.
O'Connor recently retired from her position as an adjunct professor in the doctoral program for nurse educators at WCSU. She still practices law, though, and says that has given her more time to focus on her writing.
For more information, contact the Office of University Relations at pr@wcsu.edu.