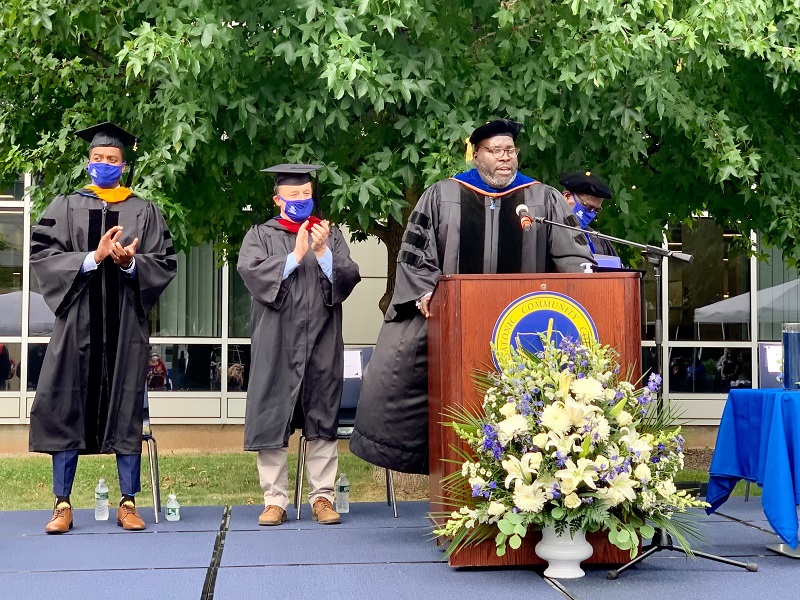 BRIDGEPORT, CT – On Thursday, September 23, Housatonic Community College (HCC) marked the beginning of the academic school year with its first-ever Convocation and Rite of Passage Ceremony. The gathering, which took place on the college's downtown Bridgeport campus courtyard, allowed students to affirm their commitment to their educational journeys.
"Today we are delighted to acknowledge our scholars and celebrate their commitment to the future and the realization of their highest goals and ideals through the pursuit of higher education," said Dr. Dwayne Smith, CEO of Housatonic Community College.
Turning to the students, Smith said, "You can succeed in whatever you set your mind to, as long as you are willing to put in the time and the effort to commit to this journey and make it so important that your future depends on it, because it does. Your time at HCC will lay the foundation for the structure of your career, your earning power and your security as a productive, responsible and engaged member of society."
The inaugural event brought together the entire Housatonic community to celebrate its heritage and legacy, and also marked an opportunity for HCC staff and faculty to reconfirm its commitment to helping students reach their highest potential.
"Today, as an academic community, we demonstrate and recognize our commitment to encourage and support student success," said Dr. Thomas Coley, Connecticut State Colleges and Universities Regional President Shoreline-West Region.
Daniela Roldan, President of Phi Theta Kappa Honor Society, encouraged students to carve their own path using HCC resources, "gain knowledge, friendships, mentorship, apprenticeship and awareness that there is so much more."
HCC Dean of Students, Kim McGinnis, Ed.D., shared the 54-year history of the college and that today's scholars have joined "nearly 450,000 students who have chosen Housatonic Community College to build the educational basis that would provide a better life for themselves and their families."
Bruce Murray, HCC Foundation Board President explained that the Foundation's role is to help students overcome challenges, "we are here to help you, that's all we're here to do. If you need anything come talk to us."
The keynote address was given by Terron Jones, who serves as Public Information Officer for the city of Bridgeport. Jones discussed the value of having discipline, defining the word as "doing something you have to do when you don't feel like doing it," and sharing that "if you don't have discipline in life, life will discipline you."
Representing the past, present and future of HCC, alumna DeNeva Wilson, current Student Senate Treasurer Jose Torres, and Allison Valencia, a new student, lit three candles. Afterward, administrators, faculty, staff and returning scholars made a pledge of commitment to do what they can to ensure student success.
Near the conclusion of the ceremony, new scholars made a pledge of commitment to their studies and to persevere to complete this step in their journey of lifelong learning, then walked across the stage to receive their HCC pledge pins.
The atmosphere of the event could be summed up by Donavan Peart, a returning student from Bridgeport, "Today was great because I felt the support of the college. It was a good motivation booster to say the pledge with my fellow scholars and to listen to the pledges from my administrators, faculty and staff, and to know that they're here to serve us, that they just want to see us be successful."