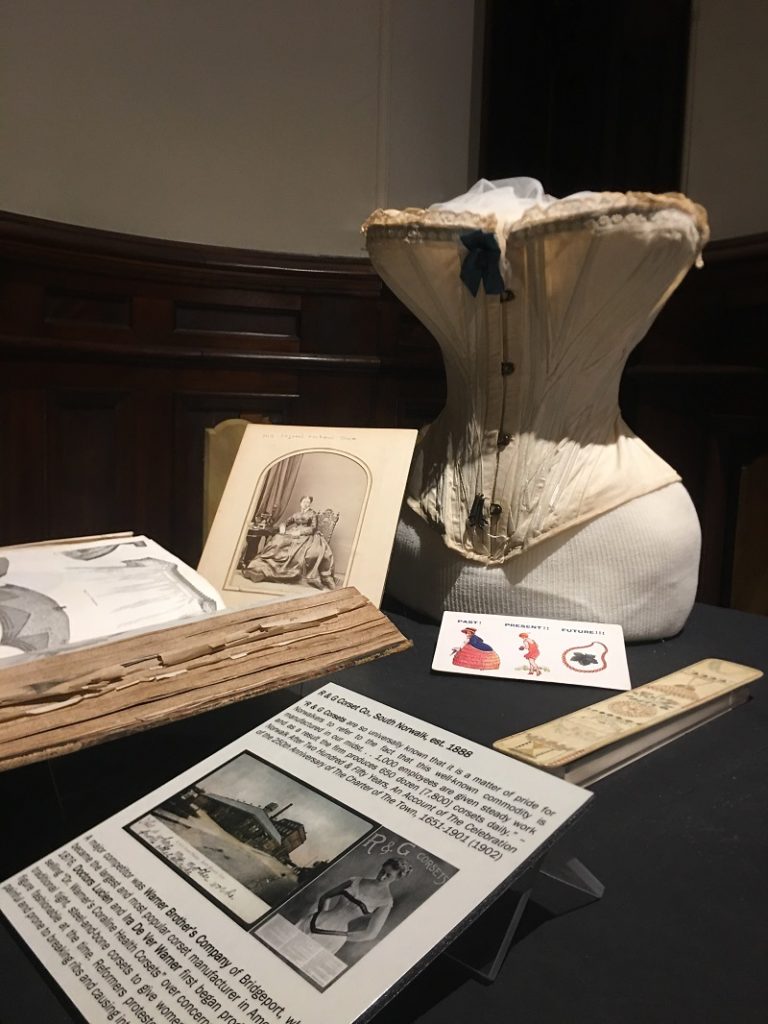 Norwalk, CT – The Lockwood-Mathews Mansion Museum proudly announces that it has won a prestigious award from the Connecticut League of History Organizations (CLHO) for the exhibition titled, From Corsets to Suffrage: Victorian Women Trailblazers.
CLHO Executive Director Amrys Williams said, "As the first major exhibition in Connecticut to deal with the suffrage centennial, From Corsets to Suffrage set a great example, connecting a well-researched local story to an issue of national significance.  CLHO is pleased to recognize the Lockwood-Mathews Mansion Museum with an Award of Merit for its work."
The exhibition was conceptualized by executive Director Susan Gilgore and curated by Curatorial Consultant Kathleen Motes Bennewitz. The program highlighted the activities and contributions to women's suffrage across the state and the country, and illustrated these local and national efforts by featuring rare artifacts from the museum's collections and with private and public loans.
This exploration also featured women of national renown who were part of the Mansion's history, such as Elsie Hill, a key figure in the suffrage movement both regionally and nationally, and author and Titanic survivor Helen Churchill Candee, an active participant in the Washington D.C. suffrage parade, to name a few.
The exhibition was made possible with generous support from CT Humanities, LMMM Chairman of the Board Patsy Brescia and the Board of Trustees, The Estate of Mrs. Cynthia Clark Brown, The City of Norwalk and The Maurice Goodman Foundation. Photography was provided by Sarah Grote Photography.
Executive Director Susan Gilgore said, "I am truly honored that the Lockwood-Mathews Mansion Museum has won such a coveted award, which highlights the vitality of our cherished institution and the tireless efforts of our supporters, board, volunteers, and staff in making the past educational, while highlighting this pivotal moment in American history."
The exhibition was made possible with loans from the following collectors, museums and foundations: Bruce Museum, Fairfield Museum and History Center, Stamford Historical Society, Litchfield Historical Society, Norwalk History Room, Rose O'Neill Foundation, Springfield, MO, Bonniebrook Gallery, Museum and Homestead, Walnut Shade, MO, and the following private collections: Lisa Wilson Grant, Rowayton, CT, Wendell Livingston, Rowayton, CT, Rosemary Gillham, England, Bridget Thorne, Armonk, NY, Kenneth Florey, Madison, CT, Gil Rodriquez, Darien, CT and Susan K. Scott, Branson, MO.