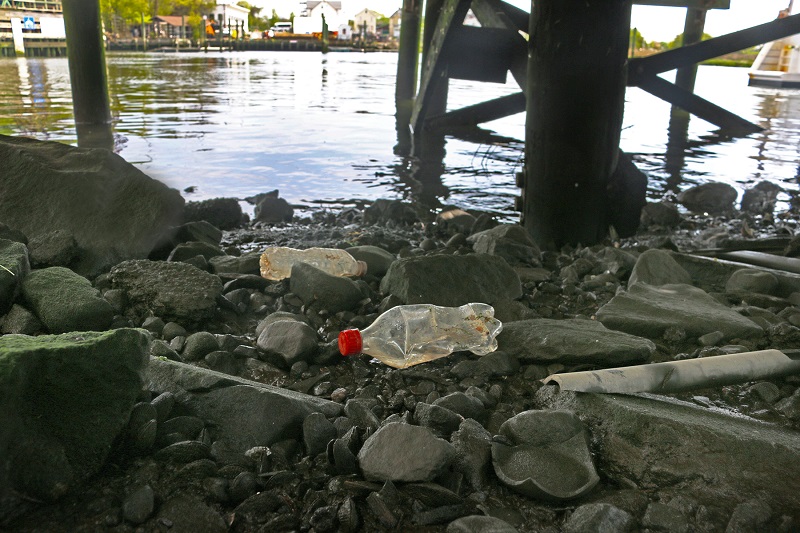 NORWALK, CT – The Maritime Aquarium at Norwalk will empower more than 100 local teens to lead new efforts to remove and reduce marine debris from Long Island Sound and its tributaries, thanks to a $144,440 grant from the Institute of Museum and Library Services (IMLS).
In addition, The Maritime Aquarium will use a separate $49,607 IMLS grant to make its virtual educational programs more accessible to those with special needs and physical disabilities.
"These awards for two very diverse initiatives underscore the strength and breadth of our programs on behalf of Long Island Sound and Connecticut," said Jason Patlis, the Aquarium's president and CEO. "We thank the IMLS for helping us to reach and inspire more members across our community."
U.S. Rep. Jim Himes (CT-4), a longtime champion for education and also for the Aquarium, celebrated this week's IMLS grants announcement.
"The Maritime Aquarium at Norwalk is a state treasure that educates and inspires visitors of all ages," Himes said. "These grants will make the Aquarium more accessible by designing virtual exhibits with learners with special needs in mind, and by providing more opportunities for teens to get involved. I'm thrilled to see federal dollars coming to such an exceptional Southwest Connecticut institution. I look forward to continuing to bring well-deserved federal recognition and resources to The Maritime Aquarium."
Marine Debris Prevention Corps
The Aquarium will use the $144,440 IMLS grant to create a Marine Debris Prevention Corps. The multi-year initiative will provide motivated teens with training and tools to become educators and advocates for ridding common pollutants from Long Island Sound's shoreline and waterways. Such items include balloons, fishing gear, plastic and glass bottles, and food wrappers.
Tom Naiman, the Aquarium's vice president for Education, said the Corps will do much more than lead beach clean-ups. They will become community leaders, driving discussions and actions that will reduce marine debris, he said.
"We've seen ample evidence in recent years demonstrating how motivated and empowered teens can change the world," Naiman said. "Our goal is to provide the tools and opportunity for teens to realize their potential as community leaders and advocates. In this case, the focus will be on protecting Long Island Sound – the amazing ecosystem in our own backyard – but, more broadly, we hope to prepare teens for leadership roles in whatever civic action they choose to pursue."
The Corps will launch this fall, mostly with teens who already volunteer with the Aquarium, with plans to enlist as many as 100 youths representing the diversity of Norwalk and surrounding communities. They'll receive training about marine debris and data collection during regular outings to local beaches and aboard the Aquarium research vessel. Eventually, these teens will use what they've learned to create – and to staff – related displays that will inform and inspire Aquarium visitors.
In addition, Corps teens will receive advocacy training and coaching in order to create materials and activities about marine debris that they will present to community organizations, including schools, restaurants and real estate companies. The Corps will seek pledges from businesses, such as becoming balloon, Styrofoam and single-use-plastic free.
Improve for All – Virtual Programs
The Maritime Aquarium will use the $49,607 IMLS grant to work with a variety of partners to explore how aquariums, zoos and museums can better serve diverse learners through virtual programming. The initiative is called Improve for All, short for IMPROving Virtual Experiences for ALL audiences.
"As soon as the Aquarium closed in spring 2020 because of COVID, we transitioned our educational programs to be available online to schoolchildren and families," Naiman said. "These offerings continue today. But one thing that became painfully clear was that children with special needs are not well-served by the majority of institutions' virtual programs."
Naiman said the goal of Improve for All is to learn the best practices for reaching these audiences and for preparing educators to engage with these audiences over digital platforms. Aquarium staff intends to seek guidance from various agencies, including Cooperative Educational Services in Trumbull; the Fairfield Public Schools; STAR, Inc., Lighting the Way of Norwalk; and the West Virginia Schools for the Deaf and the Blind.
Over the next two years, The Maritime Aquarium will create a suite of new virtual programs that overcome the current barriers preventing individuals, groups and schools from experiencing virtual programs in ways that align with learning goals and needs.
"These new virtual field trips and distance-learning programs will inspire and connect audiences with our animals and our mission, regardless of physical, developmental or geographic barriers that might prevent students from fully engaging in our existing in-person or virtual programs," he said.
The Aquarium also will host a workshop to train educators from other area museums in the best practices for developing virtual programs that serve audiences with special needs or physical disabilities.
The two Maritime Aquarium grants were among 208 grants nationwide – totaling $29.5 million – announced this week by the IMLS, which is the primary source of federal support for the nation's museums and libraries.
"Our current round of grants for the museum world reflects the important work of our nation's cultural institutions during the pandemic and the deep thinking about the future of our culture in a post-pandemic world," said IMLS Director Crosby Kemper. "Advancing the preservation of collections, diversity through staff training and programming, community response, and formal and informal education for future generations is inspiring."