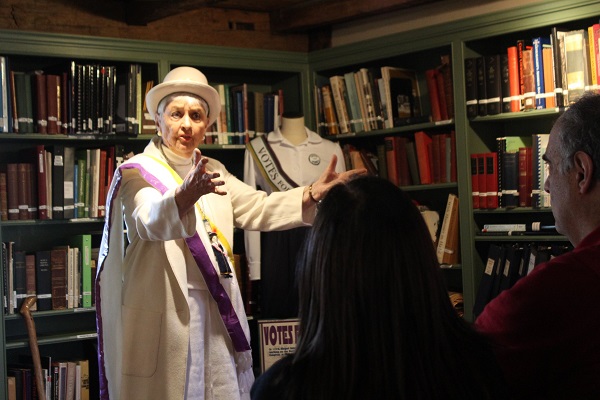 NORWALK, CT – Join the Norwalk Historical Society on Thursday, June 3, 2021 at 5:30pm via Zoom for "A Virtual Chat with Mary E. Woolley – Activist & Educator" with guest presenter, Dr. Darla Shaw – professor emeritus of education and women's studies at WCSU. Dr. Shaw, who is known for taking on the roles of various historical women, will bring Mary E. Woolley to life during this virtual presentation.
Learn about Woolley's remarkable life which began in South Norwalk, CT. After becoming the first female student at Brown University and a professor at Wellesley College, Woolley became the 11th president of Mount Holyoke College from 1900 – 1937. Under her direction, the college made great strides in aligning the curriculum to the changing needs of society. Throughout her life, Woolley was awarded twenty honorary doctorate degrees from the country's most prestigious universities. Later in life, Woolley became a peace activist and proponent for abolishing child labor. Historical photographs will help to illustrate the presentation. A question and answer session will follow.
There is a suggested donation of $5.00 and registration is required at www.norwalkhistoricalsociety.org Once registered, the Zoom link will be included at the bottom of the confirmation email.
About the presenter: Dr. Darla Shaw, professor emeritus of education and women's studies, WCSU/ 25 years; 38 years with the Ridgefield, CT Public Schools. Her passion is traveling to over 90 countries to provide humanitarian services, playing with three bands accordion/steel drum, taking on the roles of numerous historical characters, as well as speaking and writing about her experiences with cancer for Ann's Place, the American Cancer Society, and Sloan Kettering.