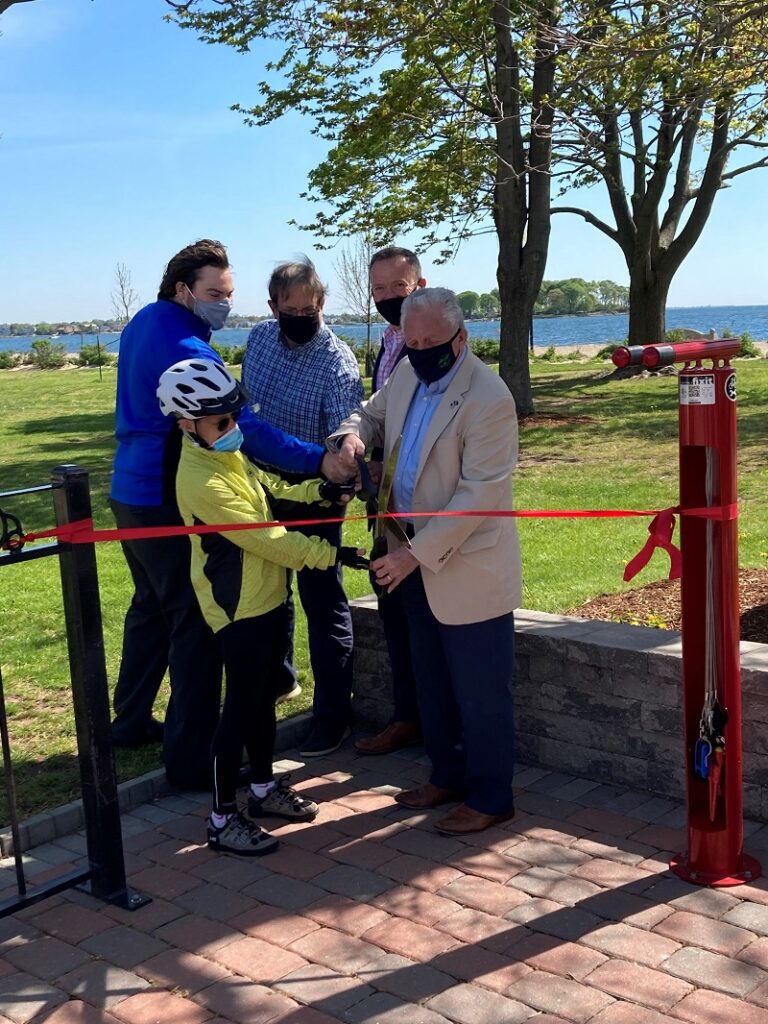 Norwalk, CT – On Friday, Norwalk Mayor Harry Rilling, the City of Norwalk Transportation, Mobility, and Parking and Recreation and Parks Departments, and the Norwalk Bike/Walk Commission celebrated National Bike Month by unveiling the first self-service bike repair station in Norwalk.
The self-service station is located at Calf Pasture Beach near the Main Patio with easy access to the Norwalk River Valley Trail. The repair station is free to use, and contains tools necessary to make minor repairs, from changing a flat to adjusting brakes and derailleurs. The tools are securely fastened to the repair stand, which can accommodate all types of bicycles, and includes a work platform.
"May is National Bike Month, and it was the perfect time to unveil our new bike repair station. This is the first-of-its-kind repair station on City property. Bike repair stations, especially ones with air pumps, are a helpful amenity for cyclists," Mayor Rilling said. "Nothing is more frustrating to a bicyclist than a flat tire or loose gears. The sturdy and durable bike repair station allows a cyclist to have access to all the basic tools they would need to make repairs or adjustments and keep on riding. I am thrilled that we have been able to provide our very first repair station in time to celebrate Bike Month."
The bike repair station comes with a complete set of handy tools securely fastened to sturdy repair stands. The deluxe public work stand comes with tools that are organized with a retractable aircraft-grade cable to prevent tangling. Bicycle repair stations are the perfect addition to any city, park, or bike trail.
"The Bike/Walk Commission supports bicycling and walking as safe, accessible, and sustainable forms of transportation and recreation that increase the City of Norwalk's livability and economic vitality, and improve public and environmental health," said Nancy Rosett, chair of the Bike/Walk Commission. "In support of that mission, we are pleased to provide this repair station for bicyclists to make minor repairs to their bicycles, including pumping up their bicycle tires."
The Transportation, Mobility, and Parking Department worked closed with the Bike/Walk Commission on this project. The Recreation and Parks Department was instrumental in installing the repair station and signage, and relocating an existing bike rack nearby.
Sam Ebert, from Cannondale Bikes, will be demonstrating the use of the repair station from 1 p.m. – 3 p.m. on Saturday, May 8. Members of the public are invited to join their fellow cyclists and community members to learn more about the repair station. Face coverings and social distancing are required.