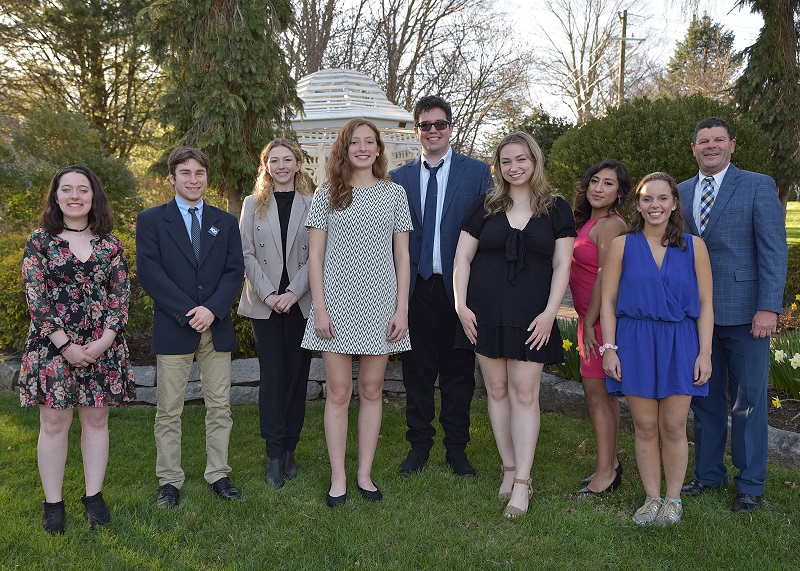 DANBURY, CT – Western Connecticut State University's Alumni Association recently awarded over $30,000 in scholarships to 13 undergraduate and three graduate students at an awards ceremony and dinner at the Amber Room Colonnade in Danbury. The scholarships are based on academic achievement, involvement in university and community activities and service, and are open to students in any major who have a minimum of 24 credits and a GPA of 3.5 or higher.
"Each year as I read the applications, I am totally amazed as to what these students have accomplished," said Sharon Fusco '67, chair of the scholarship committee. "I can only imagine where they will go after leaving Western Connecticut State University. I am so glad we are able to help them as they move forward," she said.
Funds for the scholarships are provided by donations from alumni and friends of the WCSU Alumni Association, as well as from monies raised from alumni fundraising events such as the annual golf outing. This year's recipients are:
Undergraduate students: Michael Azzi '24, Justice and Law Administration, of New Fairfield; Allison Cerasale '23, Psychology, of Prospect; Abigail Curillo '22, Finance, of New Milford; Adrian Gonzalez '24, MIS-Security Management, of Orange; George Kane '23, Finance, of Carmel, New York; Rebecca Kessler '23, Music, of New Milford; Sophie Leeds '22, Marketing, of Trumbull; Mary Lubus '24, Elementary Education, of New Fairfield; Katelynne Main '22, Audio and Music Production, of Griswold; and Ryan Perreault '23, History, of Danbury.
Fallon Campbell '22, Elementary Education, of Carmel, New York, received the May Sherwood Memorial Scholarship. This award is in honor of longtime faculty member May Sherwood and is awarded to a junior Education major entering his or her senior year.
Isabella Bosco '22, Musical Theatre, of Delaware, Ohio, received the Neil Wagner Scholarship. Wagner '52 was a longtime member of the Alumni Association Board of Directors, the Alumni Golf Tournament co-chair, former dean of the University Center for Lifelong Learning, president of the Faculty Association, chair of the Varsity Governing Board, class adviser and a member of the university governance committee. This scholarship is awarded to a junior student who exhibits enthusiastic support of the university.
Skylar Bartush '23, Psychology, of Watertown, received the Eric N. Wellman Scholarship. Wellman '64 was an alumnus who served as the treasurer of the Alumni Association's Executive Committee and was very involved in alumni activities.
The WCSU Alumni Association Graduate Award is given to current graduate students in any major who have completed at least 12 credits and maintained a 3.5 GPA or higher. Christina Bergers, M.B.A. candidate, of Trumbull; Paul Costa, M.B.A. candidate, of Bridgeport; and Alana Mihovics, M.S. in School Counseling, of Stamford, each won scholarships.
For more information on how to help or join the WCSU Alumni Association, contact Tom Crucitti at crucittit@wcsu.edu or WCSU Public Relations at pr@wcsu.edu.