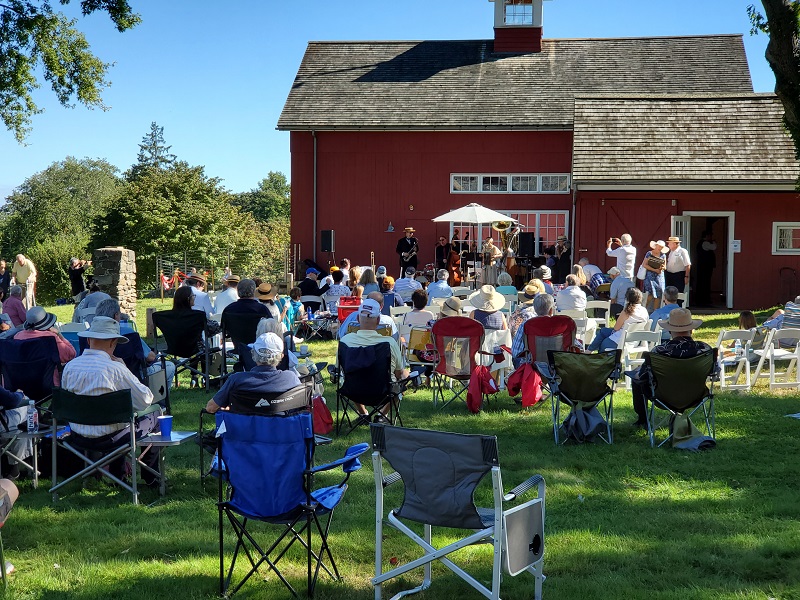 WESTON, CT – Connecticut Humanities, the statewide, nonprofit affiliate of the National Endowment for the Humanities (NEH), has awarded the Weston Historical Society a $10,200 CT Cultural Fund Operating Support Grant (CTCFOSG). This grant was administered by CT Humanities (CTH), with funding provided by the Connecticut State Department of Economic and Community Development/Connecticut Office of the Arts (COA) from the Connecticut State Legislature.
The grant will support the Weston Historical Society with its plan for rebranding and marketing to expand its audience in Connecticut, Westchester County, and the Hudson Valley. The goal of the Society's new and expanding programming is to make Weston a regional destination for lovers of history, culture and art.
The Society has added many new wide-ranging exhibits. It is completing a major restoration of the historic Coley House that will feature a permanent exhibit when it opens later this year. Another new development is the installation of the Daniel E. Offutt, III Sculpture Garden, an avant-garde collection of original art works that will appeal to visitors of all ages. Another outdoor attraction is the self-guided tour of the Coley Homestead, made available through its award-winning, interpretative signage that provides a glimpse of Weston's past. When visitors venture inside the main museum building, they will experience any one of a series of interesting exhibits offered each year. All these programs are made possible through the generous donations of individuals and businesses, and by fundraising activities and events, in addition to grants.
"The CT Cultural Fund Operating Support Grant (CTCFOSG) will assist in hiring a rebranding and design consultant to guide us in building an implementation plan, as well as a marketing plan, to give the Weston Historical Society a broader reach," said Samantha Kulish-Fargione, executive director. "Currently, we pull the majority of our visitors from Weston and the immediate surrounding towns. With the proper marketing and rebranding assistance, we hope to draw people from all over Connecticut as well as New York. An increase in audience and awareness would help the Weston Historical Society financially sustain, as well as grow exhibits and programming."
The Weston Historical Society was one of 624 organizations in Connecticut that was awarded CT Cultural Fund support totaling $16 million from CT Humanities. The CTCFOSG are part of $30.7 million of support allocated to arts, humanities, and cultural nonprofits through CTH over the next two years by the CT General Assembly and approved by Governor Ned Lamont. The CTCFOSG will assist organizations as they recover from the pandemic and maintain and grow their ability to serve their community and the public.
The Society operates independently from town government and is sustained by the generosity of individuals and businesses, and by grants and fundraising events.
The Weston Historical Society would like to acknowledge and thank its enduring annual sponsors: Fairfield County Bank and KMS Partners at Compass, as well as the Daniel E. Offutt, III Charitable Trust. The Weston Historical Society is a 501(c)3 non-profit organization and is located at the Coley Homestead, 104 Weston Road, Weston, CT 06883. For more information or to make a donation please contact the Society at info@westonhistoricalsociety.org, 203-226-1804 or visit www.westonhistoricalsociety.org.